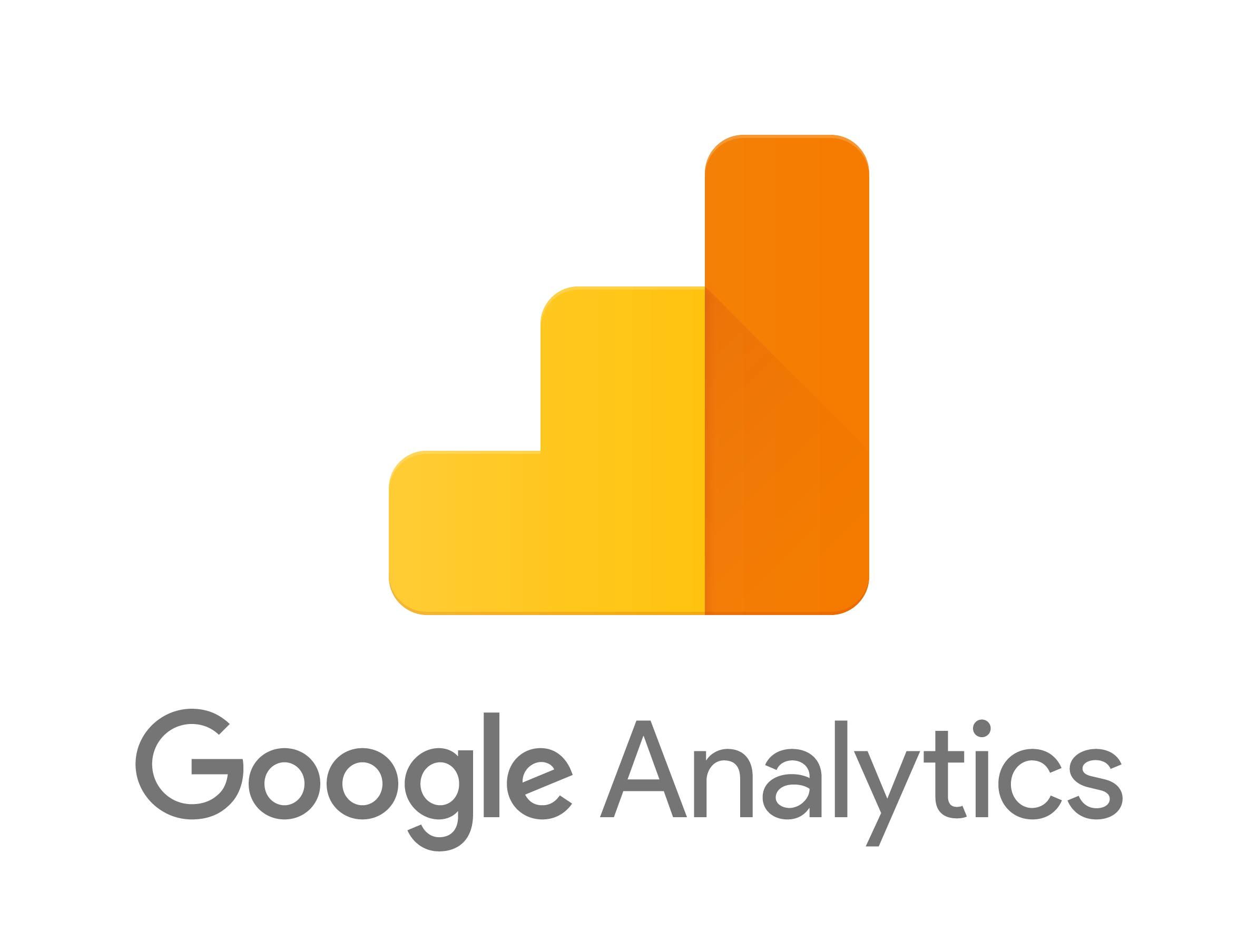 Google Analytics (GA) is used by more than 30 million websites worldwide. It's the go-to tool and we know what it does well, namely monitoring volume of website traffic, discovering where your website visitors are coming from and tracking conversions. As a business that deals exclusively with call-centric companies, we are often asked about Google Analytics call tracking.
THE GA BLINDSPOT
If you rely solely on GA, but your customers purchase your products or services over the phone, then you're not seeing the whole picture. In fact, you have a serious blindspot.
GA doesn't track phone calls; it's focused on your website and your online presence. When your customers go offline, picking up the phone to make a purchase after doing some research online, GA won't include this conversion in its reports.
The good news is you can still use GA for all of your monitoring and reporting, and have call information in there too, so everything is still in one place. You can do this by integrating call tracking technology, such as our own, into your Google Analytics.  
COUNTING CALLS AS CONVERSIONS
The ability to integrate any marketing software with Google Analytics is crucial to making a marketer's life easier, which is why it's such a focus for us. We're constantly enhancing our integrations' features to rid you of this data blindspot.
See it in action below.
HOW IT WORKS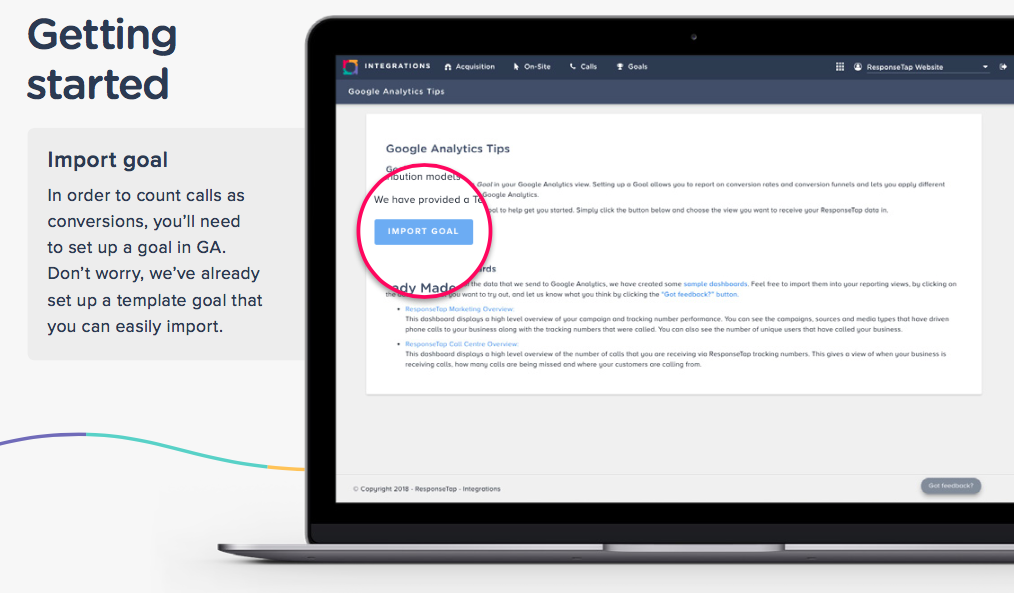 And with ResponseTap, there's no need to spend time setting up custom reports in GA. We've already created some dashboards that you can easily import (see below).

This is simple to do in the Integration Centre and you can even upload a template goal so that your calls count as conversions.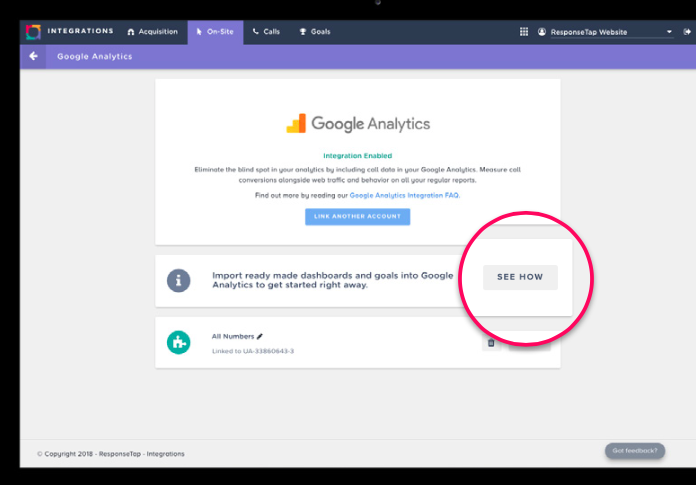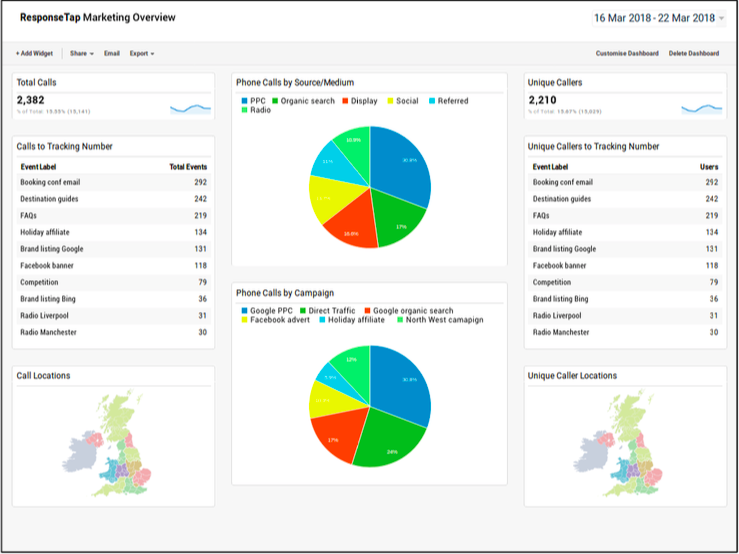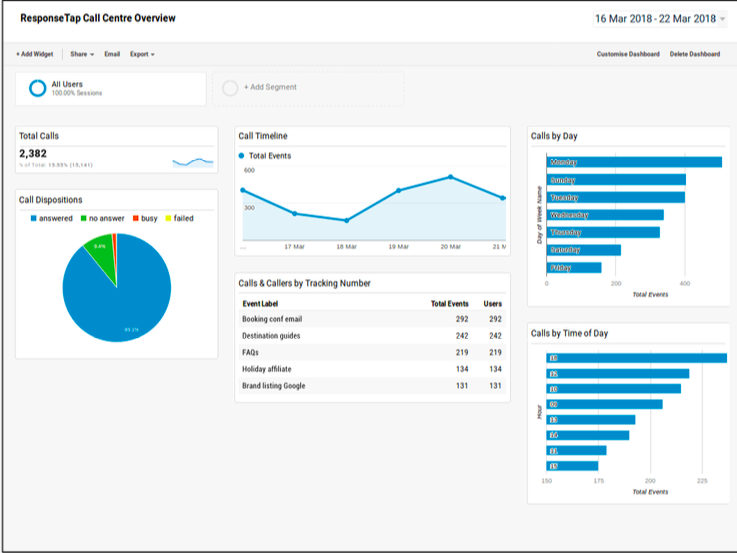 LANGUAGE CONSISTENCY
We're also changing the language we use in our GA integration, so it's easier to identify trends between the integrated platforms, particularly if you are a new user to ResponseTap. To match the terms used in GA, we will now adopt phrases including 'page views' and 'sessions' and use the same logic as Google as to what qualifies for each category.
Many products will make claims about their ability to integrate with GA but some are more seamless than others. We know how frustrating it is to juggle multiple reporting systems and having to combine the findings your multiple pieces of martech are providing you with.
You can find out how our customers use the GA integration with our agency partner Search Laboratory here https://www.responsetap.com/gb/stories/search-laboratory-maximizes-roi-with-responsetap/