BrightonSEO had us by the scruffs of our necks last week. A veritable assault on the marketing senses as usual, we were bowled over by all things SEO. And we also rolled out our ResponseTap (geddit?!) again and pulled a load of pints while hamming up the SEO beer pun banter. Did you make it to our stand for a beer, cold one, cerveza, brewski…?
If you didn't come to the event, or if you were too inebriated to drag yourself away from our bar, here are our 5 key digital marketing takeaways for you.
1. IGNORE YOUTUBE AT YOUR PERIL
Okay, okay. We've heard this time and time again, but Sam Hänni's talk on "why marketers are losing money from ignoring YouTube as a traffic source" spoke volumes. YouTube as a search engine, with lasting impact and massive amount of potential for profit, is still as important as ever. Oh and this is a nice hook for us to talk about our own YouTube channel, right.
Subscribe to our brand spanking new YouTube channel.
2. MEASURE DARK SOCIAL SHARES
You've heard of the Dark Web, but have you heard of Dark Social? According to BlueGlass's Chelsea Blacker "87% of all shares are made through copy-and-paste direct from the address bar." Meaning apps such as WhatsApp, Slack, Facebook Messenger and lots of others (even email!) are not being counted as social shares. Who knew?!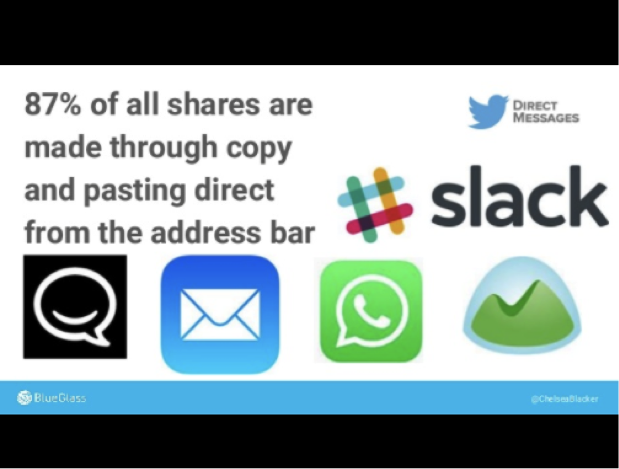 3.BOT FAILS, AND BEING HUMAN
Mando's Jonathan Seal offered some great insight into how humans can work with bots for better all round customer experiences. He also featured some awks bot exchanges: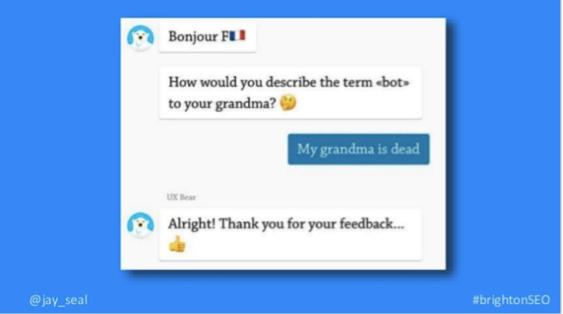 along with a cringe example of the human touch…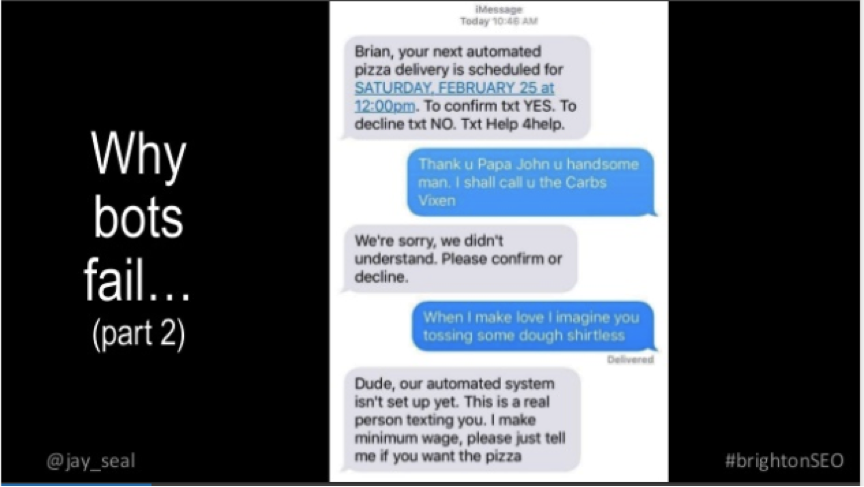 4. DELIVER ON YOUR PROMISES
Don't fail to deliver on your promises. If your copy promises a 'demo now' then make sure you can deliver. A hilarious talk from copywriter Amy Harrison reminded us of the dangers of leading your potential customers down a false path of promises. And that your copy should make your prospects want you, not just what you do.
5. CONTENT IDEAS
Blogger Sam Charles had a wealth of resources to offer for tools to help you with your content strategy and where to look for inspiration. From user-generated content to offer authority to your blogs via Ask Reddit, to Unsplash for free stock pics, this was a jam-packed lesson in elevating your blogging skills.
You can hear BrightonSEO's Kelvin Newman talk about his event in a podcast interview he did with us a few weeks ago below.